Angus McZee is a fictional character created by Microsoft as a host to their line of Microsoft Kids software in the 1990s. The blue-skinned character wears wacky attire and leads children through the fictional town of Imaginopolis, where each building or room is a unique interface to a different part of the software. He is accompanied by a different partner in each software title.
According to the History segments found in the Creative Writer and Fine Artist menus, McZee befriended Maggie (an artist) and Max (a writer), two friends who had their own treehouse of creativity. McZee made a grand entrance and introduced the children to Imaginopolis, where he showed them the Library (in Creative Writer)/the Museum (in Fine Artist). McZee supposedly created writings and masterpieces (the latter featuring himself as the subject) that inspired famous artists and writers (such as Pablo Picasso and Charles Dickens) into creating their own versions known today.
In 3D Movie Maker, McZee runs the theater, acting as ticket taker, usher, concessionaire, producer/director, and talent scout, along with assistant Melanie to aid him and the user in movie-making. According to the Talent files, McZee discovered all the actors and actresses that feature in the program through strange encounters.
Starring in
Edit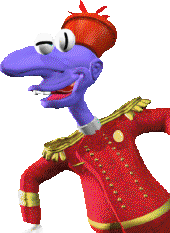 Community content is available under
CC-BY-SA
unless otherwise noted.